Heads up, content creators, you don't have to go to coding bootcamp or work your fingers to the bone to boost your creation-based revenue each month!
Read on to learn more about these low barrier methods for building passive income sources
.
The real name of the game for passive income sources is "scaleability".
Sure, doing commissions and taking on freelance projects is a great way to earn, but you're only human–and you shouldn't have to work yourself to death to make money doing what you love.
The answer? Digital products.
Digital products are infinitely scaleable!
I know what you're thinking: Etsy, really? I'm already on Etsy, and if I have to take one more trip to the post office–
Stop!
Etsy is more than just handmade goods! Think of the items you create: now take one step backward. What were they before you put on the finishing touches? A pattern, a print file, a pile of found materials?
Offering up a digital version of your original sewing/knitting/crochet pattern, the photo print you were about to make, or a PDF guide on how to create something awesome with the items in your junk drawer is an excellent way to add more volume to your Etsy business without adding more work for yourself–AKA passive income sources!
Learn more about listing digital items on Etsy here.
Speaking of creating PDFs, Gumroad is another great spot for selling digital goodies. When I first started out there, you could really only sell digital books and the like, but now they offer a wide range of services. You can even create subscription services through their interface! My favourite thing about Gumroad is how clean their checkout process is. You don't have to click through endless pages or unnecessarily enter your billing/shipping address.
You can now even directly embed your products into your page and sell them through the Gumroad interface without needing a SSL (security certificate–the thing that makes your URL bar turn green!) It can look like this:
Or you can embed the entire product page and folks can checkout inline. And all you have to do is click a few buttons and copy and paste the code–low tech, as promised! It's an awesome tool and I highly recommend it to build passive income sources.
If you create any kind of illustration, design, or photography, you can use RedBubble to put it on all sorts of fun products. The best part? RedBubble does all of the legwork for you. I setup my RedBubble shop on a whim, and now it's one of my most consistent and totally hands off passive income sources. I've sold 43 of these Oh Kale Yeah stickers alone: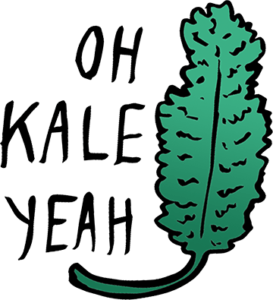 There's a lot of room for experimentation, and it's totally okay to fail! It's hard to know what consumers want sometimes, but with interfaces like RedBubble, where all items are made to order, you don't have to worry about sitting on 100 t-shirts you'll never sell. RedBubble is constantly adding new products to their lineup of things you can customize with your designs–everything from leggings to pillow cases to laptop sleeves.
When it comes to time commitments, this one is the lowest of the low. You already know products you love as a creator: if they're on Amazon, you can get your share of the profits for recommending them. How it works:
>You share a link of a product you think is awesome
>Someone clicks that link, it takes them to Amazon, and they buy anything
>You get a small percentage of the profit
Yes, you read that correctly: it doesn't matter if the person who clicked your link doesn't buy the exact item you shared. There's one small catch: you do have to remember to get your custom Associates link for the item you want to recommend. Want to make this even simpler?
For those of you with a WordPress based site: A developer called GeoRiot has a WordPress plugin called Amazon Link Engine that simplifies the process for you even further. You copy and paste any old link from Amazon, and GeoRiot automatically customizes it for your Associates account AND serves the correct regional link based on where the user is surfing from. Basically, folks surfing the net in the UK get directed to Amazon's UK site even if you got your link from the US Amazon site. It doesn't get much easier than that when it comes to passive income sources!
Skillshare is a subscription based eLearning platform where folks pay a small monthly fee to access a wide variety of classes taught by all kinds of creators. And yes, one of those creators could be you! As their teaching page states, everyone can teach.
If you've ever taught a class or workshop before, you'll know that this one involves quite a bit of work up front. However, once you've got your lesson plans in place, teaching a course on Skillshare can be a great low commitment way to generate more income.
The bottom line is: your skills are valuable.
Don't let anyone tell you otherwise!
Monetizing can be difficult (as I'm sure you already know) and it often does involve a lot of work. However, something doesn't have to be hard to be profitable.
Are you making passive income as a creator in other ways? Feel free to share in the comments below!
Summary

Article Name
Creators: 5 low tech ways to build passive income sources
Description
Boost your creation-based revenue each month! Read on to learn more about these low barrier methods to build passive income sources.
Author
Publisher Name
Publisher Logo