Starting a business online involves a lot of decisions–
the choice to self host or outsource eCommerce activities is one of your most critical. 
Read on for platform suggestions for both options, and the benefits and disadvantages of each.
Just starting out? Let somebody else help
For folks who are just beginning their foray into eCommerce, it's probably best to stick with a pre-established platform. Consider your product first, then select a host who best suits your niche.
If you primarily sell digital publications, check out Gumroad.
I've written about using these platforms to create passive income sources before, but read on for more on the nitty gritty of the benefits and disadvantages that come with your different options.

The perks of the package deal
When you look at your Etsy bill at the end of the month you might say: is this worth it? 20 cents per listing, 3.5% of every sale, and 3% plus .25 cents per "direct" payment adds up. For a $10 item bought via direct checkout (AKA a credit card sans Paypal), that's $1.10 eating into your profit margin.
So what do you get for your $1.10?
In Etsy's case, you get three things (primarily):
Payment gateway
User interface
SEO, user base, and organic/paid advertising
A payment gateway is always going to cost you (I talk more about that more below). 3% is a fairly standard rate. Building a UI that's functional and attractive (which Etsy has, for the most part) is an expensive and complicated process. But the most valuable feature Etsy offers to you, particularly if you're just starting out as a seller, is SEO (appearance in search results) and reputation building.
Buyers don't have to worry as much about the sometimes harrowing experience of making a purchase online. Although they know essentially nothing about you or your business, potential customers recognize and trust the Etsy marketplace brand.
Moving up in the world? It might be time to go it alone
The biggest disadvantage of going with a platform is the cost. Every single option listed here takes some percentage or flat rate for hosting your products and allowing you to accept payment.
Hosting your own site and eCommerce system can help you skirt these fees, but there's a lot of expenses involved here as well. You will need and/or want:
A reliable site host
An eCommerce platform
A security (SSL) certificate
A payment gateway
If you're less than comfortable with technology, you may even need to hire someone to do most of this for you. Assuming, however, that you're willing to make the investment of time and money there are a lot of advantages to doing things for yourself.
For one, integrating into an existing, well trafficked site is a great way to superpower your eCommerce launch. If you run a popular WordPress blog about recipes, for example, selling cookbooks or other goodies is a natural choice.
WooCommerce: free eCommerce for WordPress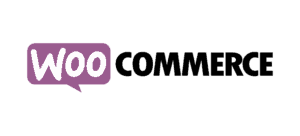 Running a blog is a great way to get traffic to your eCommerce site–and it's natural to think of WordPress as a content management system. Of course, WordPress can do so much more than just help you publish your blog.
WooCommerce by WooThemes is a powerful plugin that allows you to create a simple eCommerce platform, right on your site. The basic version is free and can integrate with Paypal classic for no additional fee (other than Paypal's fees, of course).
If you're looking to do more, WooCommerce can integrate other cool features:
But just as a note: these extra features are going to cost you.
WooCommerce is another in a long series of "freemium" services that, once you decide to upgrade, will ding you left and right with fees for additional extensions or capabilities.
That being said, it's a powerful service, and you can happily use the basic version for free. (There are also a variety of 3rd party extensions that can save you some cash).
Don't forget your payment process experience!
So you've finally decided whether you will self host or outsource eCommerce. You've chosen Etsy because it's reputable or WooCommerce because it's free. But you can't forget to think about what the payment process is like!
Buying things is a process. Consider how you shop online yourself. There's a lot to consider before even getting an item into your cart, much less progressing to checkout.
If the checkout process is tedious or seems insecure, potential customers will give up quickly.
For example, let's compare the Etsy checkout process versus the Gumroad checkout process for an identical digital item.
Etsy checkout process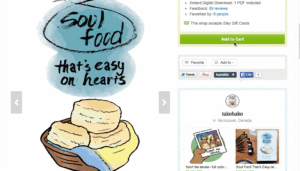 With Etsy, even though the item is digital, you can see I quickly get stuck creating a password to even continue the checkout process.
Gumroad checkout process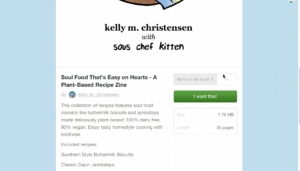 For Gumroad, I simply click "I want this" and am instantly transported to a secure payment gateway, lightbox style.
To be fair to the folks at Etsy, this is one of Gumroad's founding principles. But, they also charge more per transaction–5% versus 3% with Etsy. However, there are no listing fees.
The 3 key principles for any eCommerce setup
As you've read so far, there's no one size fits all solution when it comes to choosing to self host or outsource eCommerce. But I will close with a few key principles to keep in mind, no matter which option you go for.
#1 – Make yourself and your product look good
#2 – Emphasize security and reputation
#2 – Make checkout and payment as easy as possible
If you stick to these points, you should have a successful eCommerce setup in no time!
Summary

Article Name
Should you self host your eCommerce site or outsource it?
Description
Starting a business online involves a lot of decisions--the choice to self host or outsource eCommerce activities is one of your most critical. Read on for platform suggestions for both options, and the benefits and disadvantages of each.
Author
Publisher Name
Publisher Logo