Go beyond conversion rate optimization
There's more to a successful website than just conversion rates. At Kirin3, we take a holistic approach to optimization that includes data analysis, user experience (UX) design, and process automation that means happier customers and more free time for business owners.
Get a free conversion audit assessment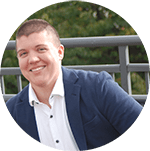 Kelly M. Christensen
Founder of Kirin3
I founded Kirin3 based on 3 principles: pragmatism, honesty, and openness. I wanted to take a new approach to inbound marketing because potential clients I encountered were often confused and frustrated… It can be hard to distinguish between sales talk and actual human communication. That's why I've built my business to be different.