You've seen their slick ads on primetime TV and their $4/month hosting packages promoted on social media and search ads. But what does a "budget" website hosting package actually get you? In this article, I outline 8 different features to use as benchmarks for picking the best budget hosting for your website.
There's nothing wrong with wanting to save a few bucks on website hosting. Like with many things, there's almost no upward limit to the amount of money you can pay for a site host. A lot of the more expensive options like WP Engine and Pagely offer premium, "managed WordPress hosting". This basically means their service is geared entirely towards WordPress based websites, and they charge anywhere from $100 to $2500 a month to bring your site to your users (hopefully) as quickly and reliably as possible.
If you're just starting out, looking to minimize upfront costs, or simply don't require the heavy duty memory and traffic offerings that come with these premium providers, a budget host is the way to go. But picking the right one is easier said than done.
I've been working with clients who use a wide range of budget and premium hosts for years, and I've seen some truly terrible customer service and even worse product quality. With all the struggles and tedium involved in moving to a new web host, I put together this guide to help you pick the right one the first time.
Before I get started, I want to tell you my favourite budget hosting provider: Dreamhost. You can use all nine of these recommendations to pick the best budget hosting provider for you, but I'll let you know after each one why I think Dreamhost knocks the competition out of the water.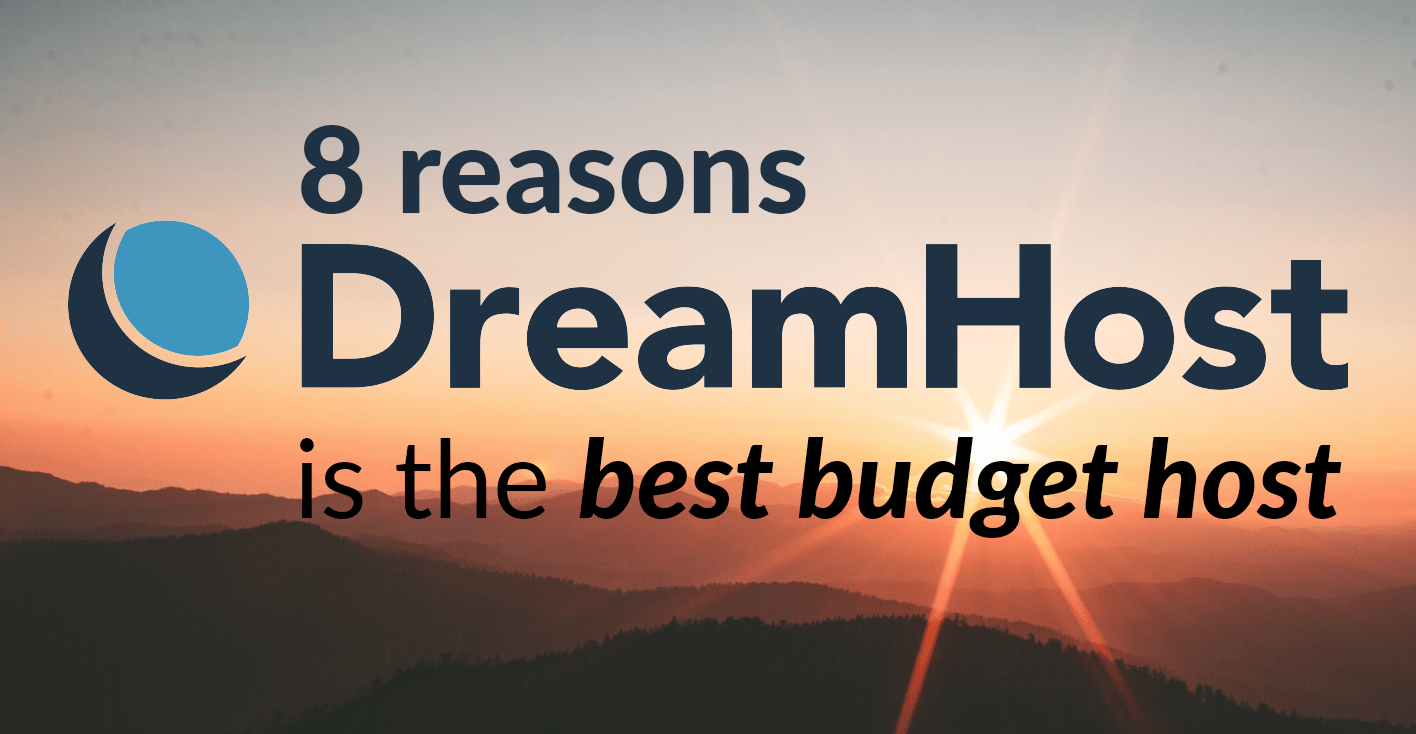 How to pick the best budget hosting
#1 – No high pressure sales
Have you ever called in to your Internet provider with a problem, and within 5 minutes it's turned into a sales call? Or maybe you went to the mechanic to get your oil changed and they want to put in a new fuel line while they're at it? These high pressure sales situations are one of the worst parts of interacting with a business, in my opinion. The conversations rarely add value for the customer and they leave everyone feeling flustered and frustrated.
Unfortunately, some budget hosts are as bad as wandering into a used car lot when it comes to upsells.
And the buck doesn't just stop with the web host's own services. The vast majority of budget hosts, from Host Gator to Hostmonster to Bluehost to GoDaddy all referral relationships with a variety of services including Google Adwords, Comodo, and the security provider SiteLock. I cannot tell you how many clients have been roped into conversations about upgrading their site security with this product. There's no concern on the part of the provider if theses are products you actually need–they're only there for the sell.
I've been on innumerable support related calls, e-mails, and chat exchanges with Dreamhost over the years, and I've never been "sold" to. Support staff are friendly, knowledgable, and never try to get you to pay the sticker price.
#2 – No gimmick e-mails
This is my #2 because I think it's an awful way to do business. I regularly field e-mails from less tech savvy clients because they've received a token promotional message from their web host telling them there's a "problem" that needs to be solved. Maybe your site is "too slow" or you need a "security upgrade". But the reality is, these aren't actual messages from a concerned hosting provider. They're just sales e-mails, trying to frighten you and take advantage of your trust just get you to purchase some add-on service at $$$/month.
You only receive e-mails when something actually needs your attention, like an expiry date is approaching or an automatic upgrade has taken place. The periodic promotional messages I've received have never come across as a "threat" to a client's site or security.
#3 – Room to grow
When you first start an online business or blog, you don't have a great idea of where things are headed. 2 years from now you could be getting 2,000 visitors a month or 2 million. One of the best features a host can offer is the ability to scale upward. Shared hosting, the lowest tier provided, let's you share space on a server with lots of other folks. It's affordable and usually more than sufficient for a casual user. But start ramping up the traffic and you'll see things slow down. From there you can upgrade to a virtual private server (VPS), a dedicated server, or even all the way up to cloud-based hosting as your business and your audience grow. But not every budget hosting provider has these extended services, so be sure to investigate what packages they offer further up the ladder and how much the cost increases.
Dreamhost offers the full range of hosting packages, from shared, to managed WordPress, to Virtual Private Servers (VPS), to dedicated servers, to cloud based hosting. You can check out more details on each package here.
#4 – No taking your content "hostage"
Hosting providers like Squarespace, Weebly, and Wix, just to name a few, have a value added service. They provide a tool that let's you drag and drop to create a site–no coding knowledge or design acumen required. You pay a premium for it as well, with the most basic packages on site builders costing two to three times as much as a budget hosting service. But the worst part is, once you build your site with one of these providers, you're stuck with them. Forever.
Website builder templates cannot be transferred to another platform with a few clicks like XML or PHP based sites (like Joomla or WordPress). If you find you need new features that your website builder doesn't provide, you'll have to hire someone (or figure out for yourself) how to completely rebuild your site on a different platform. Don't think it's likely to happen to you? I see dozens of postings on UpWork every day where folks are looking for assistance, so don't be too quick to assume.
While Dreamhost does offer its own competing website builder "Remixer", I'd still recommend sticking with a platform that gives you more opportunity for your business to grow and change as you need. Fortunately WordPress has become a lot more friendly to the needs of the drag and drop user.
#5 – No "wait and see" pricing
Some budget hosting packages have great prices, but watch out where those asterisks go…


These great prices only stick around for your first "term" with your hosting provider, usually a year. After that first term they renew at the standard rate, which a lot of these budget hosting services make it very difficult to find. And, because your terms are fixed, each time renewal rolls around, they can start charging you even more. Much like cable companies and cell phone providers, there's zero incentive for loyalty. These budget hosting providers bank on you being too busy or confused by the process to move your site to somewhere else.
Dreamhost has transparent pricing for all their products with discounts based on term length. So loyal customers actually save money. You can get a 20% off discount on Shared Hosting when you sign up for three years ($7.95 a month) or pay just $10.95 a month with no term agreement. (Also, you've got 97 days to change your mind even if you do go for one of the term agreement packages.)
#6 – Staying up to date, proactively
A few years back a new client started getting strange PHP related errors on their WordPress site. I contacted their host for assistance several times, requesting to know what the current version of PHP was and if we could update to the most recent stable version as soon as possible. Long story short, I was told repeatedly that the client's site was automatically upgraded. I discovered when going into database and investigating myself that this wasn't true, and that the client was running a very old version of PHP that was no longer supported–thus causing the errors. I assumed this was a fluke, but I've encountered this problem with several other budget hosting providers.
Running an old version of PHP is a recipe for disaster from a technical and security standpoint. A lot of budget hosts are behemoth in size, and sometimes corners get cut. It's critical that you find a host that prioritizes stability and proactive maintenance.
The Dreamhost technical team regularly shares status updates on upgrades (not just when there's an outage) and regularly works extended hours to fix non-critical features. They even run a "status" Twitter account and live updates page that posts regularly about noted issues and maintenance windows.
#7 – Affordable additions
As your business grows and changes and you experiment with new things, you're going to need additional features from time to time. A new domain name here, a security certificate there. A lot of budget sites redistribute the cost of providing cheaper hosting services into higher prices for these additional needs. And, similarly with term pricing for hosting packages, a lot of them offer a discount for the first year or two you register a domain name, while the term gets more and more expensive each time you renew.
Dreamhost offers extremely competitive rates for full security certificates ($15 a year, compared to $60 a year for budget host Hostmonster) and even provides free basic SSL through "Let's Encrypt". Domain names are $13.95 a year for a standard domain (although you can certainly find domains for less, at least for an initial term).
#8 – A user-friendly backend
The average budget host has a backend that is a navigational nightmare. They mix actual tools you need to operate and monitor the status of your website with advertisements and paid upgrades.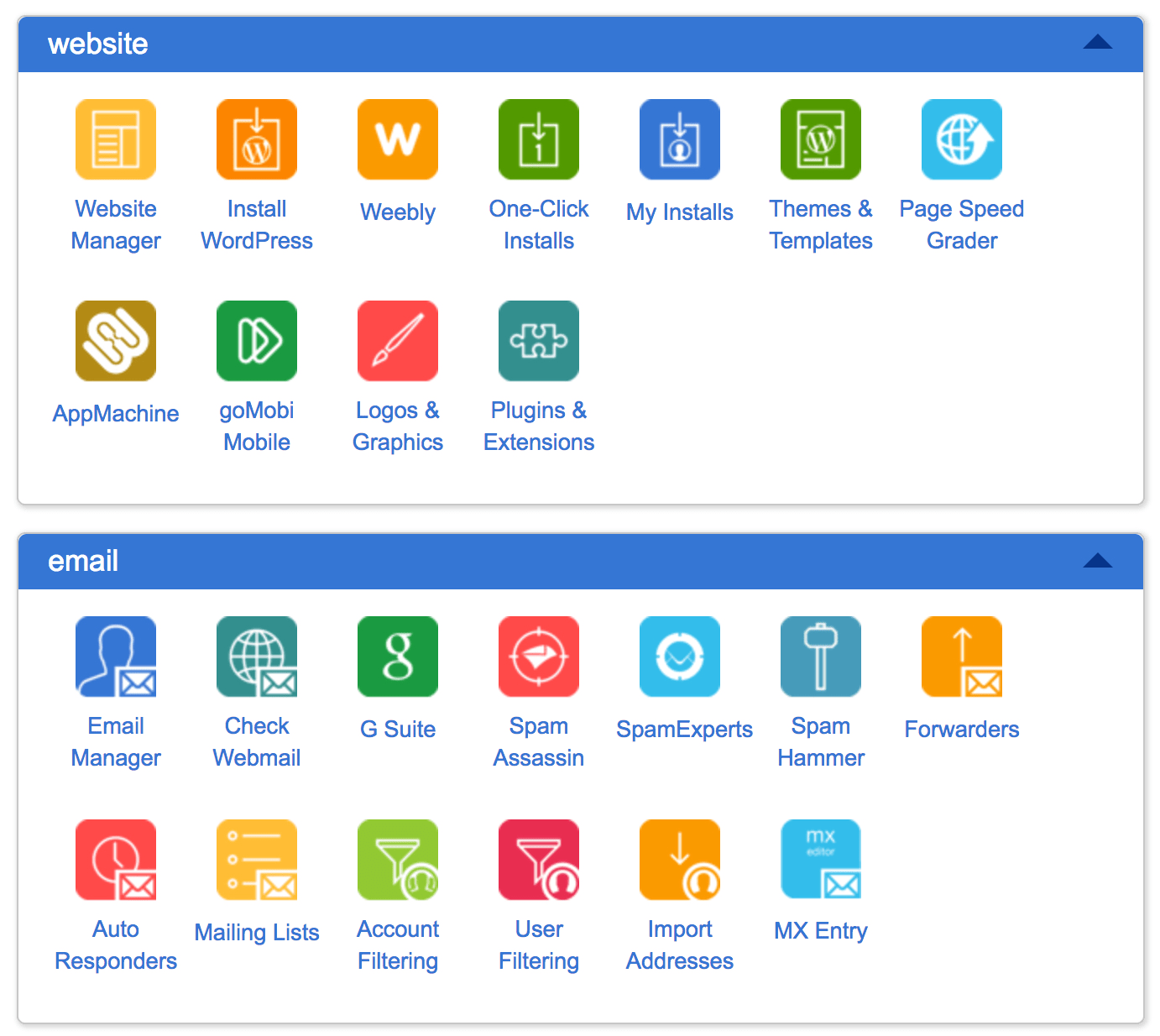 37% of these icons are for additional paid services or advertisements for outside providers.
When compared to the classic budget host cPanel, Dreamhost's backend is a breath of fresh air.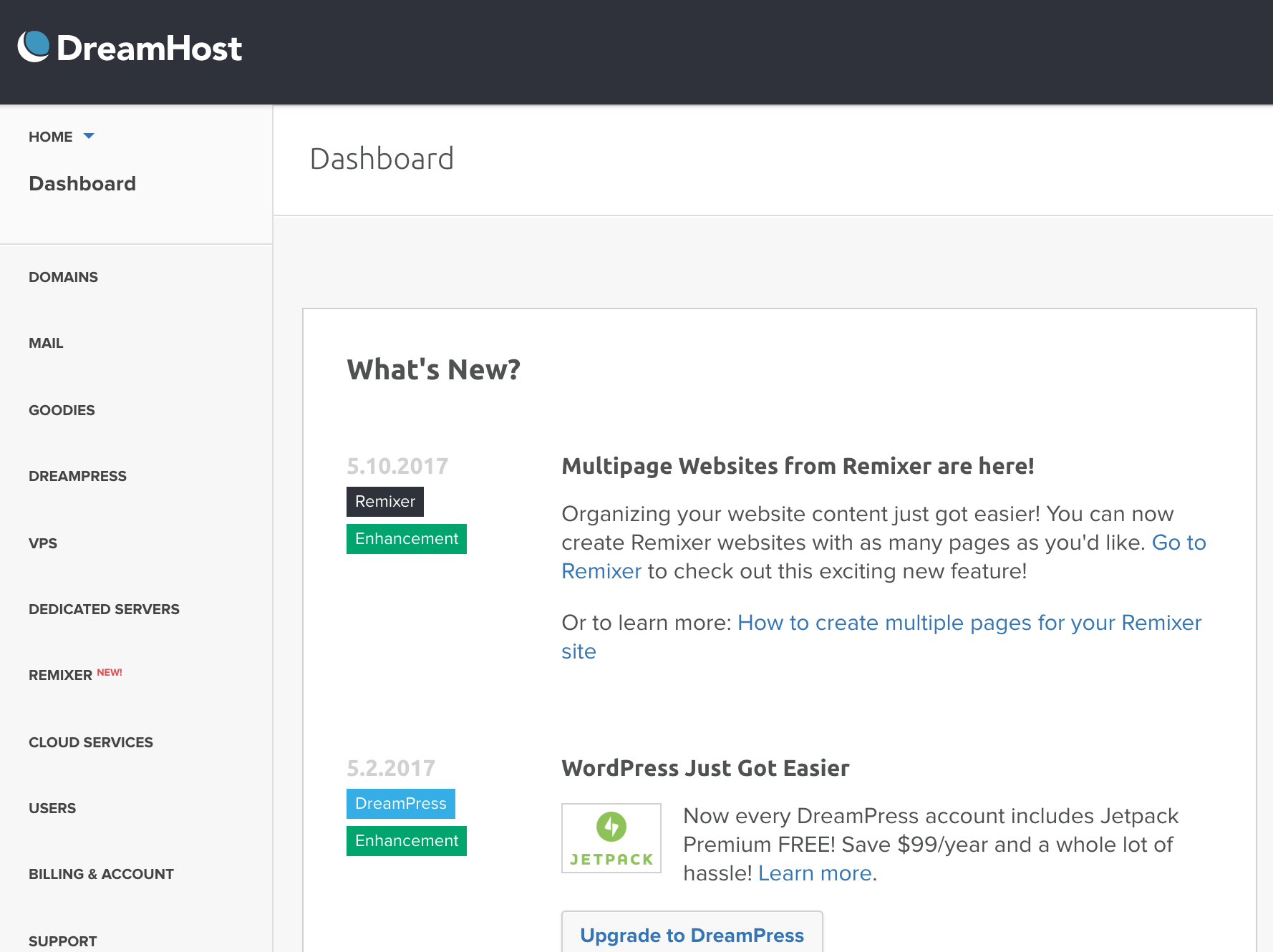 Everything you need to run your site is right in the left hand navigation. You can still access tools like "one click installs" for things like WordPress, Joomla, ZenCart and more.
The best budget host: Dreamhost and beyond
So, there you have it. How to find and select the best budget hosting provider. You can use these 8 criteria to help you find the perfect host for your site, whatever that may be. I currently use Dreamhost's Virtual Private Server (VPS) services after making the switch from Hostmonster several years ago and I've been extremely pleased with the result.
Didn't find the information you're looking for?
Let me know and I'll try to sort it out in the comments!
Summary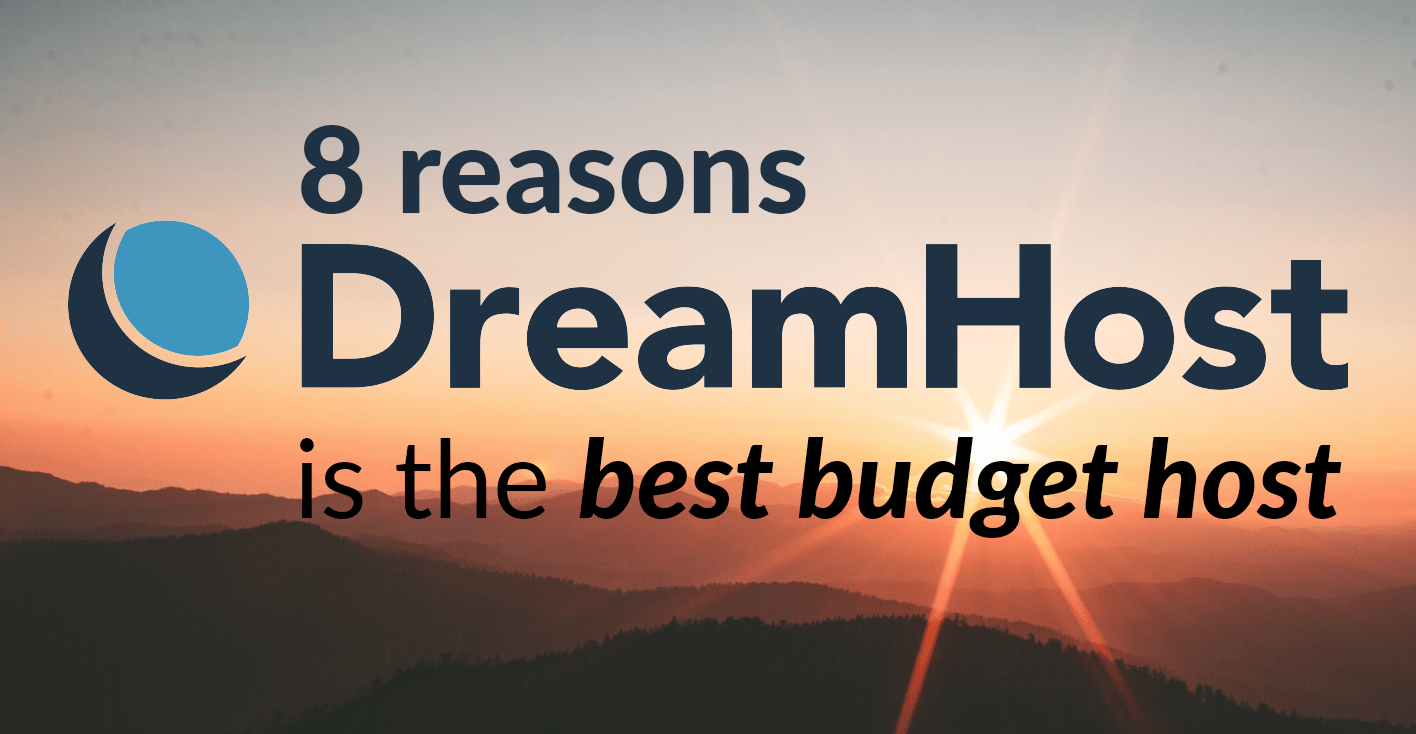 Article Name
8 reasons Dreamhost is the best budget hosting around
Description
I put together this guide to help you pick the best budget hosting for your online business after spending almost a decade helping my clients do the same.
Author
Publisher Name
Publisher Logo