I recognize this reads like a clickbait title, but what I'd really like to share with you is how I used If This Then That (IFTTT) to automate a lot of the processes involved in finding new clients for my business. I'm not guaranteeing any crazy results, other than saving you some time and making things feel a bit more managed.
Here's my results, courtesy of Mint: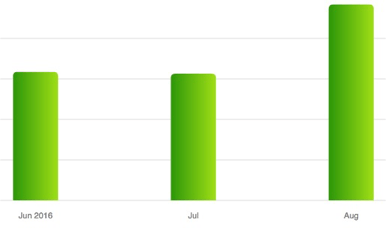 I track my expenses and income in Mint, which generates fun charts for you automatically!
Preparations
Any business worth its salt has some sort of sales funnel or process. I already had mine in the form of well-written, evidence based cover letters customized for the different variety of gigs I apply for. Additionally, I have a basic funnel setup on my personal website: a prompt to sign up for a free consultation or get a free assessment at the bottom of all my lead generating pages. I like to give people the option of the more engaged consult call versus the more casual e-mail based assessment. It helps me gauge a lead's warmth as well.
Timeline
June 27th – Initiate first Upwork RSS feed job alert to E-mail Digest
I first started playing around with IFTTT in May of 2016. I tried a few simple things at first to make sure I liked the system, like automatically setting my phone to 100% volume when my partner texts me or receiving an alert when it's going to rain the next day. I progressed to more business related task automation by having IFTTT turn my Etsy orders into Trello cards with due dates based on my quoted shipping time.
From there I initiated my first handful of Upwork RSS feed based job alerts. Creating these is simple, see a detailed breakdown of the process below.
June 28th through July 15th – Tweak and revise the Upwork feed based on results
It was clear pretty quickly that tweaking was needed to make sure jobs were relevant. I started by using built-in filters to remove entry level jobs, full time gigs, and restrict results to the North American region. I also added negative keywords like -assistant, and used some "exact phrases" where needed. See more on that below. The results were much improved.
July 16th – Initiate first local Craiglist based gig feed alert
Not that many people post gigs on CL (at least not in my area), but there are some who do. I've closed 2 clients through CL in recent months, and the key is knowing when they post so you can respond quickly. If it's best to choose the earliest time slot for a job interview, then I'd say that applies here too.
August 9th – Initiate first Upwork RSS feed instant job alert
Some gigs get filled fast. As in "less than 24 hours" fast. This became clear to me when I was getting a lot of rejections for certain jobs because clients had already chosen another freelancer, even though I'd applied within 12 hours or less. Once I setup my instant alert, I started seeing a much higher response rate and my first conversion.
Tailoring your feed: squirt gun versus firehose

Suppose on a hot summer day someone offered your parched self a drink of water–but you only had two options for delivery: a squirt gun or a firehose. The squirt gun would take a long, frustrating while to quench your thirst–while the firehose would most likely seriously injure you, while providing little to no refreshment. Obviously neither case is ideal, and the same can be said for the gig-based job hunt. You're on the lookout for a happy medium when it comes to tailoring your job posting subscription.
Make sure you're searching for something specific. Don't just search for "Japanese to english translation"–remember to include your specialities and exclude things you don't like to do. I'm not an admin person, so I always include "-assistant" as a negative keyword. This means search results that contain assistant are removed.
On Upwork, you also have the option of filtering things more specifically (see the graphic to the left).
These aren't even all of the options. Other things you might want to consider are prioritizing clients who are in your own timezone, or clients who are interested in longer term projects. Anything that will improve the quality of your results while decreasing the quantity. A "fire hose" style job feed is just as much of a time waster as searching for jobs in the traditional way.
Setting up the Upwork RSS alert in IFTTT
So we start with the "if this" bit: in our case, the RSS feed generated by Upwork. We'll start on IFTTT.
Click the dropdown menu below your username and select the Create option. Then, once you're on the page, search for RSS in the trigger channel box.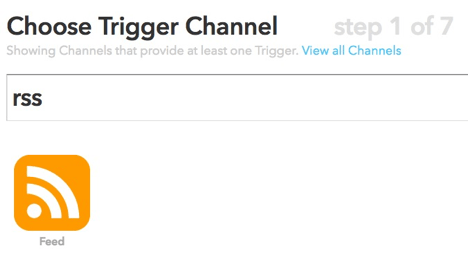 Select RSS and then select "New feed item" (we're going to specify the keywords/phrases on the Upwork side, so no need to filter them again).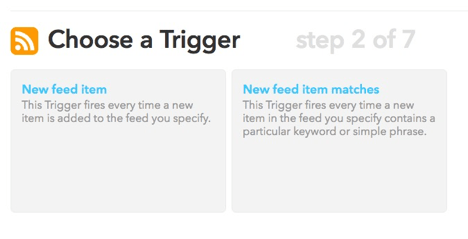 Now it's time to get your RSS feed URL. Head over to Upwork and the "Find Work" section.
For this example, I'm going to say we're a social media specialist who prefers to work with Pinterest accounts. We're experienced and we're not interested in the nitty gritty admin work, so we're going to have a negative keyword in the form of "-assistant". (This removes any search result that includes the word assistant).

When I first search this set of terms, I get 24,059 results! Yikes. You can narrow it a great deal by using the options on the lefthand side: I select jobs in the "Sales & Marketing" category, then select "Social Media Marketing (SMM)". I also filter for "Hourly" paid jobs only (no fixed price gigs for us), "Intermediate" & "Expert" levels, remove clients who have no hiring history on Upwork, filter for jobs only in North America, filter out jobs that are only said to last "Hours or Days", and remove "Full Time" positions. That leaves me with 389 jobs posted in the past 30 days or so. This helps ensure a level of quality to the job posting as well as keeping me from being inundated with only speciously relevant postings.
Once I'm done filtering, I simply click the RSS link:

This takes me to a page of random code. Ignore that bit, and simply grab the URL at the top:

You want to copy the whole, epic-ly long thing.
Go back to IFTTT and paste that in the RSS feed URL box like so: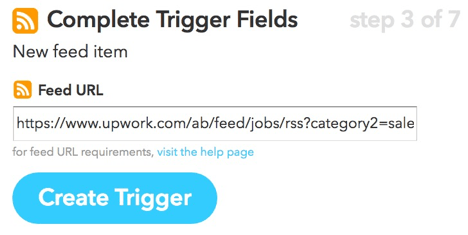 Click the Create Trigger button and you're done with the "If this" portion of your "If this then that"!
Your "then that" portion or action channel can be anything you like. However you like to be alerted about things. I personally use the IFTTT mail digest option, so that's what I'll show you how to setup.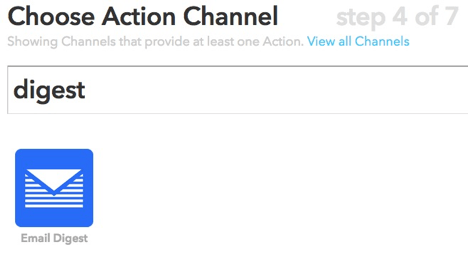 Search for digest and select the Email Digest option.
Things move fairly quick on Upwork, so I recommend selecting the "Daily Digest" option.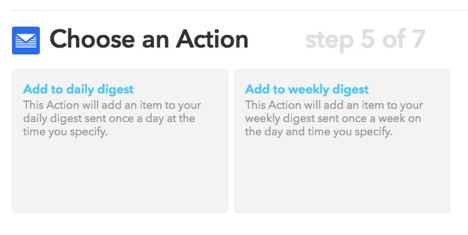 The final step is to tell IFTTT when to send your digest. This is up to you entirely, do you like to look at jobs in the morning, at lunch, or in the evening after you clock out? Whatever works best for you, select that. I recommend you leave all the other options the same.
Once you click "Create Action" there's one more important step to finalize your IFTTT recipe.
Scroll all the way down to the bottom: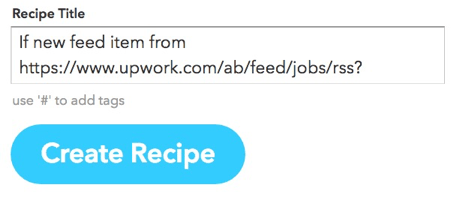 Until you see this. This will be the title of the e-mail you receive: I recommend giving this a less robot-y entry. I usually do something like "New social media Pinterest gigs on UW". Your recipe won't be active until you click "Create Recipe" so don't miss this final step!
Final review
Of course this will need some tweaking as you'll likely discover! Things to keep in mind/keep track of are:
The number of items a digest delivers weekly

The quality of the leads a certain digest creates

The conversion rate for a certain digest (how often you get interviewed, hired, etc)
Some of these things are, of course, not related to the feed itself necessarily. You may need to improve your cover letters, show more samples of your work product, or solicit testimonials from past clients. Setting your freelance rates is also a big factor in a client's process of deciding whether you're "worth the investment". Check my other post on how to set your freelance rates while still earning a profit and without forgetting to account for your expenses.
Questions:
Why create your own feed setup? Don't Upwork and Craigslist do this for you?
CL does provide a subscription option similar to what IFTTT can do for you–don't get me wrong there. Upwork, on the other hand, I have found doesn't quite have the algorithm down for recommending job postings. When I still had the e-mail option active, I would regularly get messages about jobs that were a "great fit" that seemed completely out of left field given my profile and qualifications. Plus, I really don't like logging in to the Upwork dashboard on my browser if I don't have to. It's a time suck.
You said "automated" before–this still seems like a lot of work.
True–it's not a completely automated or passive process. You still have to read through the job postings, reach out when they seem relevant, and present yourself as an ideal candidate. But, I find this a lot easier and less time consuming than having a set time that I go "looking" for new work. These digest e-mails are something I can easily read while eating breakfast or, more realistically, groggily lying in bed with one eye open. If I see a position I like, I simply push the link to my work station via Pushbullet.
Summary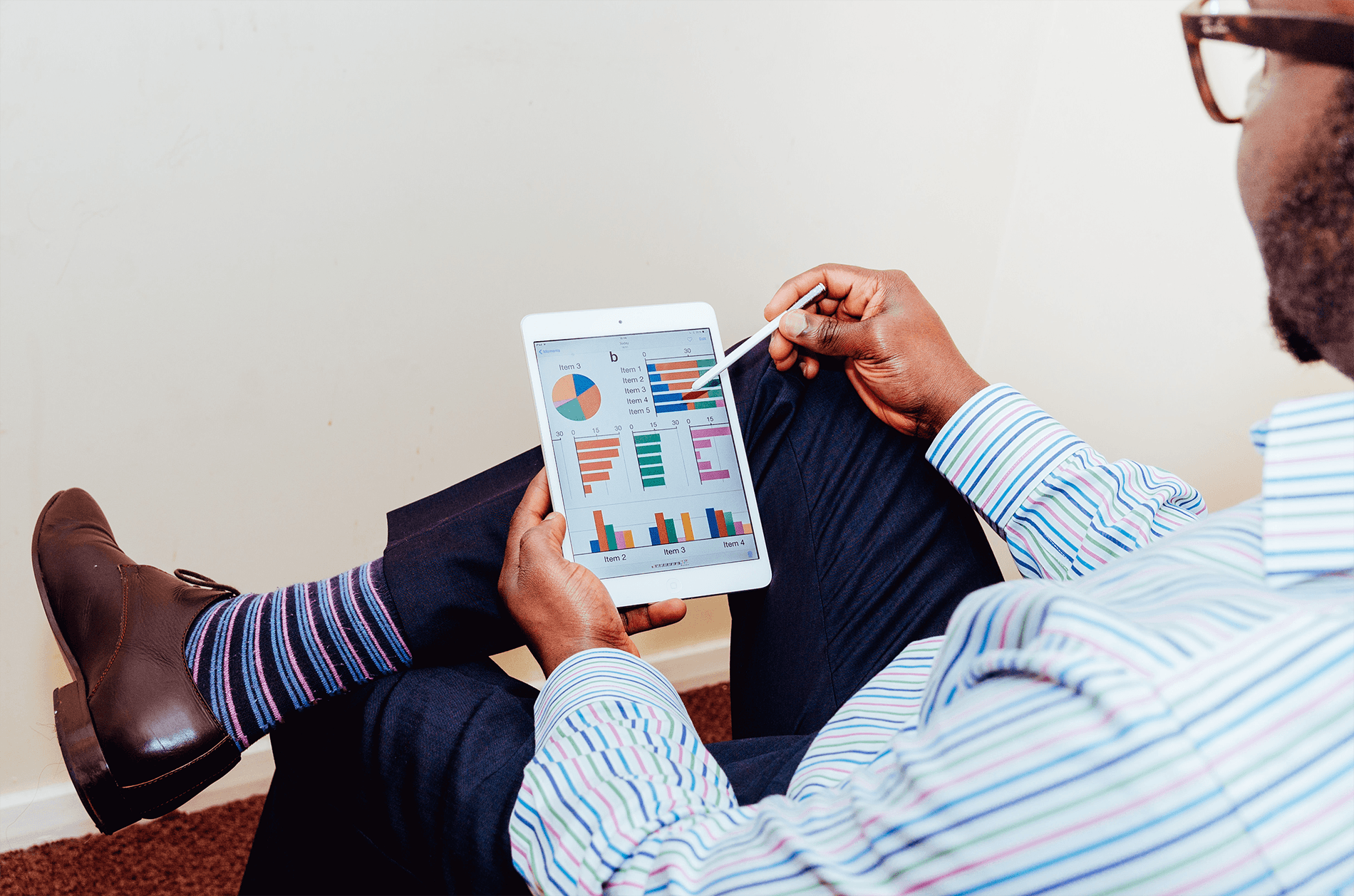 Article Name
How I increased my freelance income by 54% in 2 months with IFTTT
Description
Simple, step by step instructions for automating your gig application products and getting more clients (and more money) with less time using IFTTT.
Author
Publisher Name
Publisher Logo